About Us
Denard Stalling Artist, Co-Owner Vinings Gallery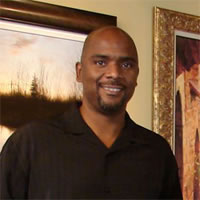 Denard Stalling is a nationally recognized artist whose paintings are as highly sought after as pieces by acclaimed artists featured in his Vinings Gallery - a place fast becoming the art destination of the South.
Stalling and gallery co-owner Gary Handler broke from the traditional midtown/Buckhead Atlanta art scene in December 1999, when they set up shop in the northern suburb of Smyrna. "We started with a blank canvas seven years ago, and we've worked hard to build a very personal, full-service gallery," explains Stalling, who approaches life like he does art - with original creativity and innovation. "Life is one big canvas waiting for your own paintbrush."
Stalling's paintbrush has always focused on the subjects that matter most in his life - family and music. For many years, Denard's work reflected a strong connection to his grandmother's land in Alabama, an 80-acre farm where she raised ten kids and enjoyed the grandkids every summer. He continues to enjoy painting landscapes and portraits, as part of his expanding and popular body of work.
He began playing the saxophone again in the late 90s, after a twenty-year hiatus, and found the answer to his lifelong search for what to paint next. "Once I realized I could still play the sax, my collection of musical instruments grew and it was obvious to me what I needed to paint," explains Stalling, whose musical paintings have truly struck a cord with galleries and collectors nationwide. He plays music for his soul, not the critics. "I think everyone would like to get up and play in front of a packed house, but I really just play for myself. I put my art out there to be judged and save my music for my soul."
Vinings Gallery customers can usually find Stalling painting at the easel in the front window or designing one of his handmade frames in the back. "Effective framing is an extension of the artwork itself. Stalling has always enjoyed putting his own unique twist on just about everything - including his very first car and the room he grew up in. "I was always trying to make my car or room different from any other, and today I continue to express myself through my creativity, my surroundings, my home, and my artwork."
Denard Stalling enjoys the relationships he's building with gallery customers, art collectors, and fellow artists, all of whom seek out Vinings Gallery's contagious enthusiasm for wonderful art. "The soul of the gallery can be found in our sheer love for great art and artists," explains Stalling. "I'm fortunate to be so in touch with my soul. I've found the perfect mix, with family and work - whether I'm at the easel, working on frames, playing the sax, or enjoying my home life."
Denard Stalling lives in Kennesaw, Georgia - not far from Vinings Gallery - with his wife Tracy and daughters Serra and Taylor.