About Us
Gary Handler Owner, Jack of All Trades, Practicing for the Senior Tour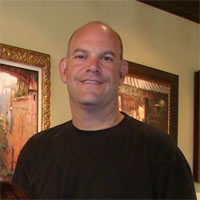 Gary Handler has mastered the art of blending together a powerful palette of talented, nationally recognized artists in his Vinings Gallery - a place fast becoming the art destination of the South.
Handler and gallery co-owner, artist Denard Stalling broke from the traditional midtown/Buckhead Atlanta art scene in December 1999, when they set up shop in the northern suburb of Smyrna. "My two passions in life are my family and art," says Handler, who lives two miles away from the gallery. "My enthusiasm for great art is contagious among collectors and even the great artists who exclusively showcase their work with us in Atlanta."
Vinings Gallery has developed a real following over the years, much of it built on Gary's dedication to clients and artists, his relaxed style and accessibility, and his vast knowledge of art, design and composition gathered over more than 17 years in the business. He credits the success of the gallery to an extraordinary level of service. "We have great friendships with many of our clients, who enjoy our special artist and wine tasting events, the evolving gallery inventory and rely on our special in-home art consulting services," explains Handler.
Like many of the impressionist painters featured on its walls, Vinings Gallery is a true original. "We're dedicated to good, old-fashioned customer service and personally hang most of the pieces we sell to our Atlanta-based clients," says Handler. "I get a lot of satisfaction out of working with clients and helping them search for and find just the right piece of art - knowing they'll enjoy it for a lifetime."
Handler is a graduate of Auburn University, where he attended on a golf scholarship and earned a business degree. He lives in Smyrna, Georgia, with his wife Cindy and daughter Maya.