Christopher M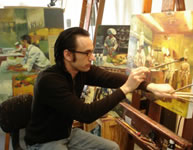 Born in 1975 in Oakland, California, as a child Chris always had a penchant for drawing and painting. But he never considered being an artist a viable vocation until he entered a contest in his senior year of high school to win a semester scholarship to an art school. His portfolio prevailed and was awarded the scholarship and Christopher M has never looked back. The artist exclaims, "Once I got to art school and began studying painting and drawing from life, I was hooked. Since then I have never wanted to do anything else.
"The Culinary Collection"
In the garden of an artist's soul, seeds of creativity take bloom in many forms. Pods of inspiration burst and give birth to new works of art to satisfy our appetite for beauty.
Contemporary artist Christopher M. continues his still-life legacy with delicious fervor as he paints a succulent collection of culinary delights. The artist's "Culinary Collection" is a selection of 8 small paintings, each depicting an exquisite jewel from the earth's bounty. Enjoyed alone or as a fabulous artistic salad, this collection is sure to satisfy even the most discriminating palate.
Here, Christopher M. renders still-life compositions in their simplest form; yet painted with a complexity only deciphered by an artist's eye. Using colors selected by nature, luscious hues and rich texture dominate each canvas like a master chef creating a fine delicacy.
Ironically, the simple pleasures in life are by far the most delicious. Even a sophisticated culinary creation starts with the most basic ingredients. In the same way a painter who, using only his paint and brush, prefers the mystique of the minimal to serve up a tantalizing appreciation for fine art composition. And as consumers, we delight in the feast before us.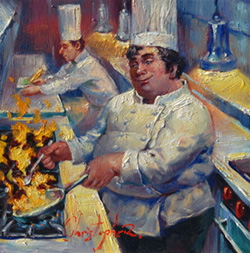 6 Pieces
33 Pieces