Jon Greene Kaleidoscopes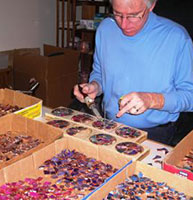 Cozy Baker, world-renowned kaleidoscope expert, referred to the Chesnik family as among the first artists to popularize the wheeled kaleidoscope. Collectors worldwide find them to be finest wheeled kaleidoscopes made, and they are among the best-selling ones on the market, as they're not gender specific, and they make wonderful gifts for a variety of occasions.
Janice and Ray Chesnik founded Jon Greenein 1980. Janice's son, Jon Greene, joined the business in 1990. Their full line of brass- and chrome-plated kaleidoscopes use a variety of materials in their wheels, such as brilliant Dichroic glass, Brazilian Agate stones slices, and shells from Cape Cod. They feature the highest quality front-surface mirrors, and a magnifying lens for the clearest optics.
In 2007, Jon took control of the business, allowing his folks to enjoy their much-deserved retirement. Janice is now devoted to creating one-of-a-kind kaleidoscopic design quilts. In 2010, Jon and his wife, Suzanne, opened their retail store, Cape Kaleidoscopes where he is the Artist-in-Residence and the "best unpaid employee". Customers are fascinated to watch him at his workbench where he handcrafts his vibrant wheels using various stained glass techniques.
The gallery is Suzanne's domain, whereas Jon creates the Jon Greeneline of kaleidoscopes from his home studio for 120+ wholesale accounts located throughout the U.S., and in parts of Canada and Japan. He's been fortunate to be awarded several large corporate orders in recent years. He's also received wonderful publicity, such as a feature article, "The Scope of Innovation" in the 12/10 issue of Cape Cod Life Magazine, and inclusions in Yankee Magazine (6/12), among others.
The creativity of Janice and Ray is still present in Chesnik Scopes. They create the Milefiore glass pieces through a fascinating Murano glass bundling process where they literally create each of the tiny glass "pictures" featured in the wheels within the Fiesta line of their kaleidoscope styles. In addition, Janice still creates the mirror systems that Jon carefully places in the tubes of the kaleidoscopes.
Each kaleidoscope is signed and dated by Jon, and comes with its own wooden base or pedestal. They could not be easier to take care of. The metal-plated finishes will never tarnish. An occasional wipe with a soft cloth is all that is necessary. These dazzling kaleidoscopes are "interactive art", making ideal gifts for men as well as women, suitable for any occasion, such as weddings, and as corporate gifts, providing the recipient with many years of viewing enjoyment.