Kate McCavitt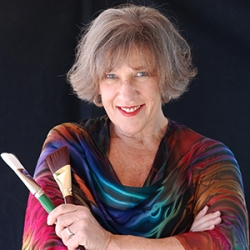 A native of New York, Kate McCavitt currently lives and works in Oceanside, California. Kate began painting in 1985, starting what would become ten years of training in Sumie (Asian Brush) technique. Feeling discontent within the confines of ink and subdued color, she began exploring experimental watermedia. Although she never abandoned the Sumie aesthetics of balance, harmony and negative space, her inspirations grew and shifted. She looked to Maxfield Parrish for his use of transparent oil color washes, Gustav Klimt for his use of metallics and embellishment and Eyvind Earle for his ability to portray the ordinary as extraordinary.
Kate explains, "everything in the world is immediately available for me to witness and express through painting. I moved to create with transparent layering, rich surface detail, intense pigmentation and extraordinary luminosity so that my mixed media paintings sing of Nature's radical but elegant side. I love the idea of hidden or partly revealed things and I hope viewers feel compelled to touch my work to connect with it, and then find their own magical things within it."
Kate McCavitt's work can be found in private and corporate collections throughout the United States, Europe and the United Arab Emirates. Deljou Art Group is pleased to add her to our list of outstanding artists.