Little River Hotglass by Michael Trimpol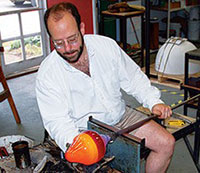 Born in Philadelphia, PA, Michael Trimpol was first introduced to glass working during a high school stained glass course in Stowe, Vermont.
He pursued a career in stained glass while attending Concordia University in Montreal designing and creating many residential commissions as well as several public installations. Frustrated with the limitations of the two dimensional process, he enrolled at Sheridan College School of Craft & Design in Mississauga, Ontario to learn the art of glassblowing.
Upon graduation in 1985, he was accepted for a residency at Harbourfront Craft Studios, one of Toronto's most popular tourist destinations.
Shortly after he left Harbourfront in 1989, he established his own company Hotglass Inc. in Mississauga, Ontario for which he designed and created a full line of blown glass products.
In 1995, Michael relocated to Stowe, Vermont and founded Little River Hotglass Studio. He currently designs and manufactures a diverse body of product in addition to overseeing the operations of the studio.
Artist's Statement
Of the many media and processes which can be used to create, I have always been attracted to glass and its potential. Initially working with stained glass, I became drawn to the dynamic nature of the blowing process which seemed to better suit both my nature and my vision.
I have a strong preference for objects of a personal scale and with potential utility. A vessel with a lid or stopper has always been of most interest. Color and pattern are also important, either a single pure color highlighting form or a more complex mixture to create patterns.
I am proud of the final product but the actual process of creation is what I find most satisfying.