Willsea O'Brien Glass Sculptures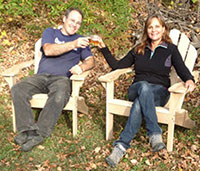 Paul Willsea and Carol O'Brien have worked together since 1983. They live in the Finger Lakes Region of Western New York. As life partners they have three children and enjoy a rural lifestyle while they work from their home studio on their wooded property.
There are currently two bodies of work that are distinctly different from each other.
One consists of bowls and vases which combine a blown vessel with a cast base. The base is cast to give the pieces a stable foundation while drawing references to architecture. The blown bowl seamlessly emerges from the cast base and is a fluid and graceful counterpoint.
The other style is made up of blown works for wall or tabletop. Made in cohesive groups, they are studies in color and how color affects form.
What inspires and motivates them is their never ending search for the right color, the perfect proportions and gratitude that they can support themselves working together doing something they love.
Their works have been shown and represented at galleries, and juried exhibitions throughout the USA including the California Crafts Museum in San Francisco, The Store at the American Crafts Museum in New York City, and the store at the Corning Museum of glass.
Corporate gifts and collections include: Corning, United Airlines, Kawasaki, Dean Witter Reynolds, Hyatt Regency, Dick's Sporting Goods, Nestle, Citibank and The Saudi Royal Family.