Dmitri Danish - Ukranian-born Artist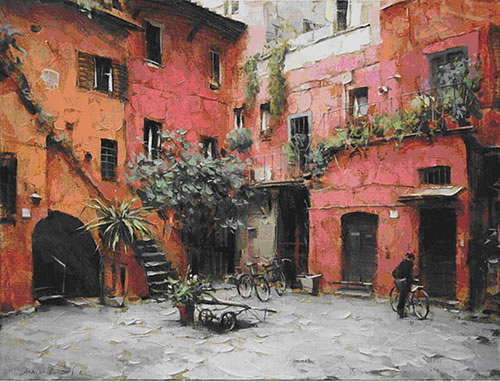 Friday, May 18, 2007
6:00p - 9:00p
Saturday, May 19, 2007
1:00p - 4:00p
This is the show season for firsts, as we proudly add Ukraine-born Dmitri Danish to our list of One-Man Shows.
Dmitri was a natural artist from the start, taking his first drawing pencil in hand before he was able to walk or talk. His mother, an artist herself, was the first to discover his talent. She saw that he expressed his thoughts, feelings and desires through his creations, and she started communicating with her son via color and shape. Painting became as natural for Danish as breathing, eating, or sleeping.
Danish's most favorite genre was cityscapes. He painted cities that he read about in books, cities that he heard about on the radio or in people's conversations, and cities that he saw printed on postage stamps. He created new countries in his mind and painted their cities, streets, canals, doors and windows. Danish liked painting doors and windows most of all because of their symbolic appeal. They let him view and enter into unknown worlds, which he couldn't do in reality. His imagination was able to take him to those unusual and magical worlds that he saw in his dreams.
In 1988 he became a member of the prestigious Union of Ukrainian Artists and his paintings were in much demand. His career as a fine artist took off and he began to exhibit in Ukraine, Russia and other Eastern European countries.
In the year 2000 the Kharkiv State Museum of Fine Art conducted a solo exhibition of Danish's works called "Cities and Mountains" and purchased three of his paintings that are part of their permanent collection. During 2000-2001, the New Jersey Museum of Modern Art also purchased three of Danish's works. And, in 2003 the Ukrainian government purchased a painting and presented it to the outgoing ambassador of the United States to Ukraine.
Through an interpretor, Dmitri will communicate his passion for the arts and we hope to make him feel that Vinings Gallery is his second home.
Please mark your calendars for our exciting and energetic upcoming shows. We promise our events will create great memories for all of us.
Cheers!
Gary Handler
Vinings Gallery