Plaid Columns Mixed Media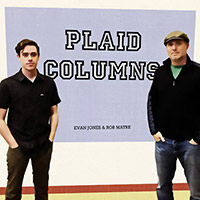 Plaid Columns is the collaborative art duo of Robert Matre and Evan Jones. Their mixed-media works combine elements of collage and photography with energetic strokes of color. Images based on Matre's photographs are frequent subjects, with a focus on how architecture and graphics add visual interest to urban and rural landscapes.
Robert Matre's photographs are widely collected and have been shown in many galleries and museums, including a retrospective at The Marietta/Cobb Museum of Art.
At 23 years of age, Evan Jones is certainly an artist to keep an eye on. Now a senior at SCAD Atlanta, Evan has already enjoyed two solo exhibitions at Matre Gallery, and his debut museum exhibition at The Albany Museum of Art has enjoyed an extended seven month run.