About Us
Micky Handler Gallery Mom, Art Consultant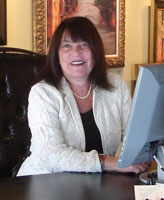 The entrepreneurial spirit is alive and well in Micky Handler. The Connecticut native has owned her own company, excelled in graphic arts, and directed marketing departments for technology innovators and well-recognized companies like Canon USA. But, she feels more at home at the Vinings Gallery than she has at any time during her successful career.
She's enjoyed watching her son and his art career develop and prosper over the last seventeen years. Gary Handler, co-owner of Vinings Gallery, was once an extremely shy teen who found his voice through his passion and enthusiasm for art, according to his mom.
"Just like artist Thomas Arvid has a passion for wine and Michael Flohr a love for cityscapes, Gary has been truly captivated by every facet of the art world," says Handler. "Our clients benefit tremendously from his knowledge of the art business and simplified approach to an industry that can often be intimidating and overwhelming at first for most collectors."
"I've really found my niche here as mom of the gallery and the team we've formed with Gary, Denard Stalling, and me is much like the chemistry we have with our artists," explains Handler. "We truly respect and enjoy all of the artists we represent. We really get to know them personally, and, as a result, our clients know them well. Our collective love and enthusiasm for great art is contagious with our customers and artists alike."
Micky says she complements the Vinings Gallery team with her ability to "demystify art" and make clients comfortable with and confident in the art decisions they make.
"The selection of art is a very personal decision. We're here to make it an enjoyable experience, to help clients understand the different painting, printing, and framing techniques, and to introduce them to exciting, emerging artists," says Handler. "There's nothing better than watching a client's eyes light up when they really connect with a piece that's going to help make their house a home."
Micky Handler lives in Smyrna, Georgia - near Vinings Gallery and even closer to her granddaughters.